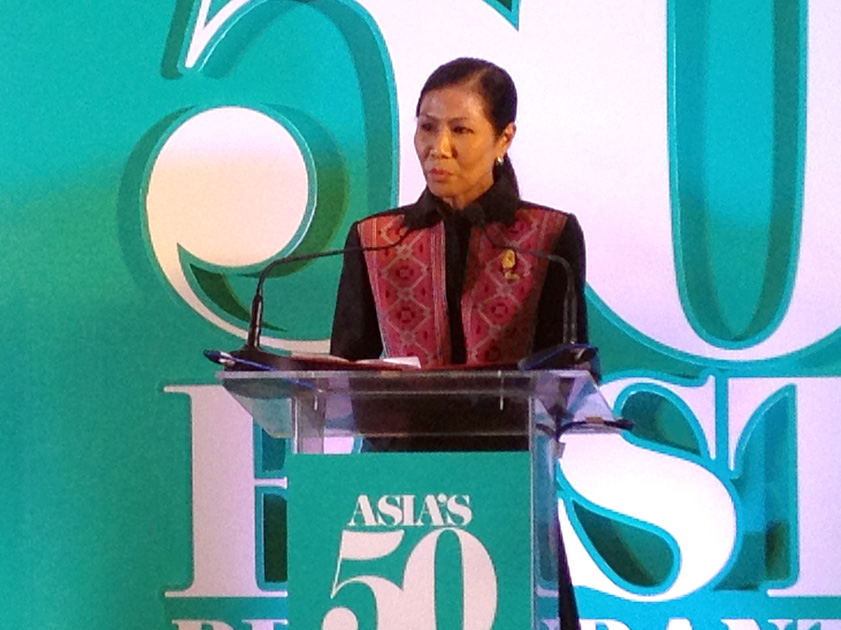 Upcoming : Thailand Hosts 'Asia's 50 Best Restaurants' Awards, in 2016
Asia's most respected chefs and restaurant owners will gather in Thailand next February when the winners of "Asia's 50 Best Restaurants" are announced.

At a recent press function, held at the exquisite
Paste
restaurant in Bangkok's upscale
Gaysorn
shopping complex, it was announced that Thailand will host the 4th annual awards ceremony for "Asia's 50 Best Restaurants", one of the most prestigious awards in the culinary industry. This event will no doubt gather the region's most respected and influential chefs and restaurateurs.
Bangkok, already a city famous for its great food, has nabbed hosting rights from Singapore, where the event has been held for the last three years. Bangkok is also no stranger to this prestigious list's Top Ten Club, with Nahm having landed first place in 201, and progressive Indian restaurant Gaggan making it to the top spot in 2015.
The fourth annual awards ceremony to celebrate Asia's 50 Best Restaurants will be held in Bangkok, Thailand, on 29th February 2016. Following three successful years in Singapore, 2016 marks the first time Thailand will host the event. The region's most respected chefs and influential restaurateurs, together with leading industry figures and international media, will gather for the announcement of Asia's 50 Best Restaurants list.
"Thailand is honoured to be the host country of Asia's 50 Best Restaurants 2016," announced
H.E. Kobkarn Wattanavrangkul
, Minister of Tourism and Sports of Thailand. "The support of this event is consistent with the national agenda to promote Thainess, Thai culture, and, in particular, Thai cuisine to the world. It will also strengthen the country's strong brand image and differentiate us from other countries. Moreover, it will prominently feature and position Thailand as a multifaceted fine dining destination where visitors are treated to an unimaginable array of cuisine options prepared by renowned chefs and backed by our warm Thai hospitality."
William Drew
, Group Editor of Asia's 50 Best Restaurants, added that, "Thailand has long been recognised for its rich culinary history and traditional street food culture. In recent years, the country's vibrant restaurant scene has matured, welcoming world-class establishments serving a variety of international cuisines. Thailand is fast establishing itself as one of Asia's key gastronomic hubs, making it the ideal country to host the 2016 edition of Asia's 50 Best Restaurants."
Since launching in 2013, Asia's 50 Best Restaurants has become the most trusted and credible guide to the best places to eat around the region. In 2015, changes to the voting process were introduced to reflect the opinions of over 300 voters spread throughout Asia and better showcase the diversity of Asia's culinary scene.
After the press launch, specially invited VIP guests sat down to a sumptuous dinner at Paste Restaurant, where the menu included such highlights as: Hokkaido scallop topped with Canadian sea urchin; Roasted duck with nutmeg and curry paste served on rice crackers; Prawn salad with kaffir lime juice and sea asparagus; and Braised Australian beef rib with ginger, Szechuan pepper and mushroom soy. It was a lovely "taste" of the splendours yet to come in February.
How Asia's 50 Best Restaurants list is compiled
Asia's 50 Best Restaurants is created by The Diners Club® Asia's 50 Best Restaurants Academy, an influential group of over 300 leaders in the restaurant industry across Asia, each selected for their expert opinion of Asia's restaurant scene. The Academy is divided into six voting regions: India & Subcontinent; South-East Asia – South; South-East Asia – North; Hong Kong, Taiwan & Macau; mainland China & Korea; Japan. The divisions are designed to represent the Asian restaurant scene as fairly as possible at the current time and are agreed with the Academy Chairs. Each region has its own panel of 53 members including a chairperson to head it up. The panel is made up of food writers and critics, chefs, restaurateurs and highly regarded 'foodies'. Each panelist has seven votes. Of the seven votes, at least three must be used to recognise restaurants outside of the voter's home country.