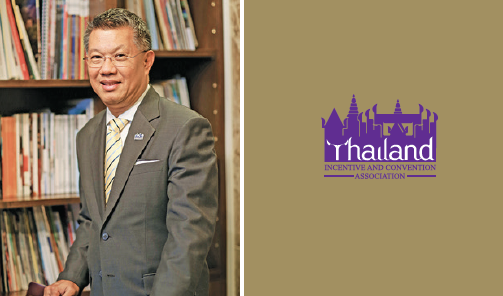 A Message from Sumate Sudasna, President of TICA
Welcome to the last edition of TICA newsletter for 2015. As is the norm, the last part of the year is usually the time when we tend to reflect on our past performance - our successes, achievements, and aspirations. And, to put it simply, Thailand's performance for 2016 has been above average. Yes, we could have done better, but taking into consideration the various market mechanisms that influence Thailand's MICE industry, I am happy to say "well done" to all our partners and associates whose combined efforts have consolidated the kingdom's position as a leading MICE destination. However, our endeavours to better ourselves will always continue, and this is evidenced by the many ongoing projects and developments underway in Thailand already, as well as the constant evolution of the ASEAN region as a whole.

Thailand continues to forge ahead with its forward-thinking infrastructure plans, and the Thai government recently signed an agreement with the Chinese government to build a proposed 873 km dual-gauge, high-speed rail link. This railway will help improve Thailand's competitiveness, and help the country become a regional transport hub.

But major changes are also happening in the here and now, and nothing underscores that fact more than the imminent arrival of the ASEAN Economic Community (AEC), which becomes a reality at the end of December. Aiming to set up a single market and production base in ASEAN - a group of 10 Southeast Asian nations which includes Brunei, Cambodia, Laos, Indonesia, Malaysia, Myanmar, Philippines, Singapore, Thailand, and Vietnam - the regional body's success at integrating the economies thus far has been nothing short of remarkable.

Finally, I would like to take this opportunity to thank TICA's partners in progress - especially TCEB, TAT, and Thai Airways International, without whose constant help and support we would not be where we are today - and all our dedicated members who have combined their efforts to bring Thailand to the forefront of the world's MICE industry. Thanks to you all, and here's wishing you and your families a Happy Holiday and a prosperous New Year!