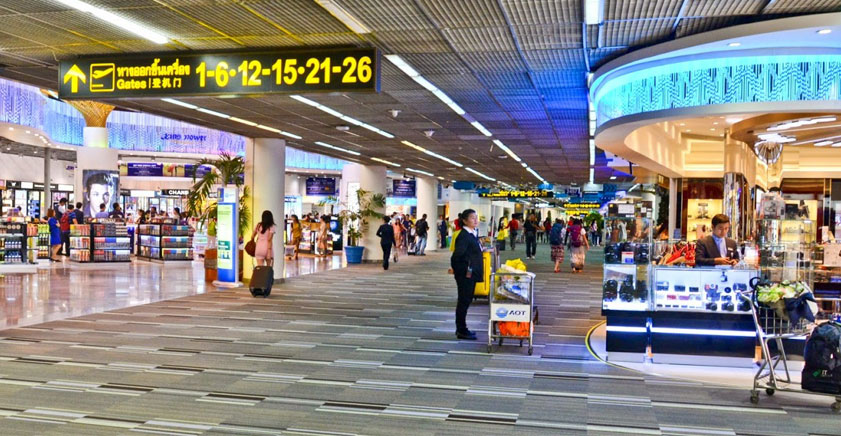 Update : Bangkok's Busy Don Mueang Airport Opens Second Terminal
As airline traffic into Thailand continues to grow, Bangkok's airports are working hard to cope with the sheer numbers. Luckily, one airport has added a second terminal to help ease the flow.
Don Mueang International Airport's Terminal 2, which was closed after the inauguration of Suvarnabhumi airport in 2006, officially opened for customers on December 24, 2015, and except for some minor hiccups things are running smoothly. Terminal 1 has already become much less congested with the opening of the new terminal because most domestic flights by local airlines have moved to the new facility - Thai AirAsia (domestic), Orient Thai, Thai Lion Air, Thai Smile, and Nok Air. The four-storey terminal's early opening was necessary to ease congestions at Don Mueang during New Year holidays, and while some wet paint remained and some bathrooms were not yet in working order, the fully upgraded facilities are now fully ready for use. The first floor is for arrivals while the second is a mezzanine, the third is for departures, and the fourth floor is reserved for shops and eateries. By reopening Terminal 2 it is estimated that the airport will be able to serve 10 million more passengers per year.

The soft opening and services were satisfactory since core systems such as those involving check-ins, baggage x-ray scans and security ran without a hitch. Eventually the two terminals at Don Mueang should serve 30 million people a year, enough to accommodate New Year travel demands. As for safety standards, Terminal 2 was checked and approved by the Civil Aviation Authority of Thailand on Dec 21st of 2015.

In addition, there will be a third phase of the Don Mueang development, as a junction terminal will be built to link with the Red Line and Airport Rail Link mass transit networks (scheduled to be completed no later than 2019).