The ASEAN Economic Community (AEC) has finally arrived – but are we ready? Does everyone understand what that date represents? And what will the real impact be? The ASEAN countries combined currently make up the 7th largest economy in the world. And by 2015, this block is anticipated to become the 4th largest economy in the world. Will the formation of the AEC spur further growth, when the region is already outperforming the rest of the world by 2% annually? As the 2nd largest economy in Southeast Asia, Thailand plays a key role in the AEC. Thailand's "Pillars of diversity" has put the Thai brand name on the global stage with its success stories in enterprise and innovation through agility, know-how and competitive edge. Thailand's position in Indochina has made it a natural hub for the region and the country continues to seize the advantages of such connectivity. So how can Thailand stay ahead of its neighbours to retain its position as "Blueprint and Gateway for ASEAN"?
CHANNEL NEWSASIA THAILAND BUSINESS INSIGHTS 2015
Channel NewsAsia Thailand Business Insights 2015 serves as a platform for policy makers, academic experts and industry leaders to share their collective insights and perspectives on important business headlines and issues. The event will invite and engage 150 pax senior-level business attendees in a highly interactive environment, with lively and provocative sessions facilitated by Channel NewsAsia.
In 2015, over 200 senior level business leaders gathered in Bangkok for a lively and provocative session facilitated by Channel NewsAsia. There were two panel discussions:
PANEL ONE: MAPPING THE FUTURE - PILLARS OF DIVERSITY
PANEL TWO: THAILAND - BLUEPRINT & GATEWAY FOR ASEAN
The discussions were moderated by
1. Chloe Cho: Presenter/Executive Producer 2. Panu Wongcha-Um: Correspondent, Indochina Bureau
DISTINGUISHED PANEL SPEAKERS
PANEL ONE
1. Mr Chansak Fuangfu: Senior Executive Vice President & Director Bangkok Bank Public Company Limited, Thailand
2. Mr Newin Sinsiri: President, Neighbouring Countries Economic Development Cooperation Agency
3. Mr Paul Gambles: Co-Founder, MBMG Group
4. Mr Simon Tay: Chairman, Singapore Institute of International Affairs
PANEL TWO
1. Mr Chanin Vongkusolkit: Senior Executive Officer, Banpu Public Company Limited
2. Dr Jingjai Hanchanlash: Vice Chairman, Board of Trade of Thailand, GMS and AEC
3. Mr Pushpanathan Sundram: Chairman, China-ASEAN Business Association
4. Mr Subhasakdi Krishnamra: Chief Executive Officer, Deloitte (Thailand)
Ms Debra Soon, Head, News & Premier, MediaCorp welcomed guests with an opening address and His Excellency, Mom Rajawongse Sukhumband Paribatra, Governor of Bangkok, delivered a key note speech.
Key highlights from the forum are presented as follows;
EXPORT SECTOR HAS BEEN AN ECONOMIC DRIVER; BUT THIS HAS STARTED TO CHANGE The Thai economy has shown resilience through the Global Financial Crisis and the Asian Financial Crisis in 1997. Accounting for 70% of the nation's GDP, Thailand's export sector has been behind the continuous growth of the country. Throughout the last decade, companies in the private sector have adjusted themselves and obtained competitive advantages, in terms of production efficiency and export products. However, the sector is now facing challenges in two ways:
1. Contraction in trade volumes: contraction started in recent years and is expected to continue as a result of weak global trade
2. Increased competition from neighboring ASEAN countries: Countries like the Philippines and Indonesia have made efforts to address their internal challenges (incl. socio-economic and political issues). As a result, they are growing stronger and narrowing the gap, and becoming more attractive in terms of foreign investment, demonstrated by the level of their net FDI inflows during the last few years.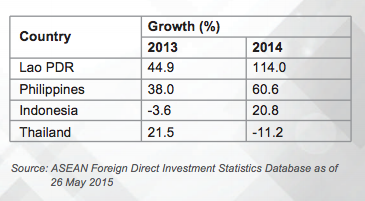 NETWORK OF VALUE CHAIN IS KEY
Cross-border supply chain linkages among ASEAN nations are crucial for the growth of Thailand. Major corporations such as Banpu Plc have started focusing on infrastructure building and financing in neighboring countries. According to Deloitte's 2014 AEC survey, 43% of the C-suite respondents view supply chain as the 2nd highest opportunity from the ASEAN integration, after investment. Greater integration spells better news for countries in the region as organisations are realising that being part of a single market is crucial for these production networks within SEA.
A MIDDLE INCOME TRAP
Like other developing countries, Thailand is falling into the middle trap, as it continues to depend on the same development model of cheap labor and low innovation, with technological acquisition mainly through technology importation. This model is not sustainable and becomes limited in the future, as a result of labor shortages and low levels of R&D, for instance.
Determinants for Thailand to escape the middle income trap include its ability to 1) integrate the markets (by leveraging the benefits of the AEC formation3 ); 2) reach new consumers; and 3) financing these consumers appropriately. This is supported by Deloitte's AEC survey where 96% of c-suite respondents feel that the AEC is an opportunity for their business - these opportunities being 54% in new markets, 46% bigger markets, and 34% in lower costs, respectively.
To escape the middle income trap requires strong cooperation between the public and private sector. Thailand needs a public sector that is visionary, transparent and efficient in implementation of its policy. The quality of the labor force is one area which requires urgent attention. This can be addressed by starting with improving education quality – the kind that provides skills compatible with changes in the technology in the modern world.
THAI BANKS – ARE WE STILL OK?
Thai banks have been resilient ever since the Asian Financial Crisis in 1997. However, the Thai economy has slowed down in the recent years, and so have the banks. The most affected parties are SMEs leading to worries on their non-performing loans. The overall economy, however, has preserved a healthy balance sheet.
Going forward, this suggests further liberalisation of financial services. Some initiatives that are being discussed include Qualified ASEAN Banks (QAB) under the Asean Banking Integration Framework, which will allow expansion and operation within the region. In practice, we are already seeing some banks in the region, such as Maybank, expand their presence into neighboring countries and make inroads into the region. However further discussions are needed around this, especially in light of the recent happenings with Greece and the European Union.
ASEAN INTEGRATION – WILL IT WORK?
There are a lot of sceptics who question whether the AEC can deliver anything tangible. The integration is often described as a goal-committing cooperation with no mechanisms in place. But the reality is that the AEC is a multi-year project. While it will not happen overnight, more than half of the executives in Asia, based on the Deloitte survey, believe that the potential impact will be significant, though the impact may not be felt until 2025/2030.
Another concern for the effectiveness of the cooperation is the diversity among ASEAN countries. However, diversity should be seen as beneficial as it fosters strengths of each nation, while encouraging countries that are less competitive in a particular area to improve themselves in other areas in order to keep up with greater competition.
With that in mind, narrowing gaps amongst ASEAN countries in socio-economic backgrounds, cultural, and political differences is key to AEC effectiveness. This can be done through putting soft measures in place. Other areas of consideration comprise business facilitation, customs simplification, standards harmonisation, and legal connectivity.
AEC – A THREAT OR OPPORTUNITY?
The overwhelming majority of the executives from a Deloitte survey (96%) and corresponding amounts in similar polls said that opportunities trump threats. However, the implications for Thailand can be rather negative. In recent years, Thailand has been losing momentum as a result of weak exports, decreasing levels of trade, as well as the absence of supply chain linkages to enjoy any new potential growth. The cost of doing business in Thailand is increasing which in turn is negatively impacting foreign investments, meaning that Thai companies need to go up the value chain. As such, the country needs to focus on creating values for its products and services and find opportunities in new markets – Cambodia, Laos, Myanmar, and Vietnam — where Thailand enjoys a locational advantage.
Recipes to tackle challenges and leverage the Community include adopting different business models, focusing on value-added products, lowering cost of production, and improving human resources at home, in order to produce enough skilled workers that match the demand requirements in the market. Going forward, the next drivers of Thai economy are the Thai corporates themselves and riding the wave of investments that should start early next year.
IMPEDIMENTS FOR THAILAND TO GRASP ADVANTAGES FROM AEC
Firstly, skills shortages are one of the country's main obstacles to doing business. Though recognising the role a good education system plays in matching the skills of the labor force with those required by employers, the government needs to be more proactive on its plan. Key to this change are training students to think more independently, investing in teachers, and linking education institutions to potential employers.
Other channels to acquire skills, beyond conventional education, are through skills training, provided by the government, at no or low cost for all workers or by private companies. Foreign language skills will also provide huge advantages to the country, as foreign firms are coming to invest locally. Surveys of foreign firms operating in Thailand indicated other desired skills from their employees are problem-solving and leadership, among others.
Secondly, Thailand has a low level of R&D activities and spending. The ratio of R&D spending to GDP has stagnated at around 0.2 percent annually for years, which lags behind many countries in the region.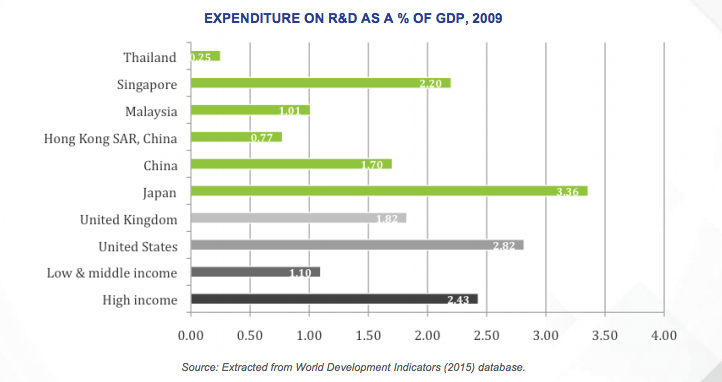 Looking ahead, to thrive in the next level of competition, more product and process innovation is required. To achieve that, a more proactive policy on R&D and appropriate incentives in the private sector are needed.
Thirdly, while political instability in Thailand during the last few years may act as a hindrance to FDI inflows to the country, it is not a major cause of the lower level of the FDI. The major problems are rather domestic issues, such as rising labor cost and lower competitiveness relative to peers. That being said, political changes do impact the continuity in public policies, thereby prolonging such domestic issues.
CHINA: FRIEND OR FOE?
China is seen as ASEAN's strategic partner, which is not only inevitable, but also necessary with its status as a leading global economic power. The relationship with China needs to be looked at it in its entirety. Relations between Thailand and China are very good with several investments and join ventures into the indo-china region.
The birth of the Asian Infrastructure Investment Bank (AIIB) will be beneficial to SEA, as there are significant infrastructure development needs in the countries surrounding Thailand such as Cambodia, Laos, Myanmar, and Vietnam (CLMV). With a large size of pie, there are ample opportunities for China to participate in the region. In response, Thailand should appropriately leverage their financial commitment and resources to get the best of what is needed. Nevertheless, it is crucial for the member countries to stick together to gain negotiating advantages.
BEYOND THE AEC
Companies are looking at the importance of the so-called "AEC+" trade alliances being formed with neighboring regional blocs and economic powers, and strategising how to make the most of these. Complimentary to ASEAN economies, investors consider other partnerships, ranging from smaller economic zones, such as the Greater Mekong Subregion (GMS), to larger ones, such as ASEAN +3 which include China, Japan and South Korea. Some are maximising different opportunities by utilising a combination of both, namely GMS-Japan, and GMS-Korea, as well as looking at how funds can be utilized throughout the region, such as capital from Singapore to invest elsewhere in CLMV.
IS 'TEFLON THAILAND' LOSING STEAM?
While the analogy still stands, soon enough Thailand will lose its competitive edge if nothing gets done to resolve the internal challenges. ASEAN Neighbors such as Indonesia, Vietnam and Cambodia are catching up, attracting investment into their countries. The five-year CAGR growth rates of net FDI inflows during 2009-2013 for those 3 countries stand at 152%, 37% and 21%, respectively. In order for Thailand to stay ahead, building capability and competing internationally in the services sector will be the key to maintaining competitive edge in the region.
PARTICIPATING ORGANIZATIONS
AYUDHYA CAPITAL SERVICES CO., LTD.
A.J.PLAST PUBLIC COMPANY LIMITED
ABC ASIAN BUSINESS CONSULTING CO., LTD.
AIA THAILAND
AKSORN CHAROEN TAT ACT. CO., LTD.
AMATA CORPORATION PCL
AMBASSADE DE FRANCE
APICHET TECHNOLOGY CO., LTD.
APPLE WEALTH SECURITIES PUBLIC COMPANY LIMITED
ASIA INTERNSHIP PROGRAMME GLOBAL
ASIA JOINT PANORAMA PUBLIC COMPANY LIMITED
ASPN ENTERPRISE CO., LTD.
ATHERTONLEGAL.COM | VCARD
AYUDHYA FACTORING COMPANY LIMITED
BALDWIN BOYLE GROUP
BANGKOK AVIATION FUEL SERVICES PUBLIC COMPANY LIMITED
BANGKOK BANK PUBLIC COMPANY LIMITED
BANGKOK INSURANCE PUBLIC COMPANY LIMITED
BANGSUE CHIA MENG GROUP CO., LTD. BANK OF AYUDHYA
BANK OF AYUDHYA PUBLIC COMPANY LIMITED
BANPU PUBLIC COMPANY LIMITED
BARCLAYS CAPITAL SECURITIES (THAILAND) LIMITED
BAYER THAI CO., LTD. AND BMS NEWCO (THAILAND) CO., LTD.
BBL ASSET MANAGEMENT
BETA CAPITAL
BETAGRO
BISTEC (THAILAND) LIMITED
BOARD OF TRADE OF THAILAND, GMS AND AEC
BANK OF THAILAND
CABLE TV OPERATORS ASSOCIATION
C-ASEAN
CFG SERVICES CO., LTD
CHAZ INSURANCE BROKERS LTD.
CHINA-ASEAN BUSINESS ASSOCIATION (CABA)
CHUAN KITCHEN CO., LTD.
CTH CONTENT CO. LTD
CULTURE, SPORTS AND TOURISM DEPARTMENT
DBS VICKERS SECURITIES (THAILAND) PUBLIC COMPANY LIMITED
DELOITTE & TOUCHE LLP
DELOITTE THAILAND
DELOITTE TOUCHE TOHMATSU JAIYOS CO,. LTD.
DEPARTMENT OF ASEAN AFFAIRS
DEUTSCHE BANK AG, FILIALE BANGKOK
DFDL MEKONG (THAILAND) LTD.
DHIPAYA INSURANCE PUBLIC COMPANY LIMITED
DEPARTMENT OF INTERNATIONAL TRADE PROMOTION
DP CLEAN TECH (THAILAND) CO., LTD.
DST WORLDWIDE SERVICES (THAILAND) LTD.
DT GROUP OF COMPANIES
ELECTRONIC GOVERNMENT AGENCY (PUBLIC ORGANIZATION)
ELYSIAN DEVELOPMENT CO.,LTD.
ENVIRONMENTAL RESOURCES MANAGEMENT
FACULTY OF MEDICINE SIRIRAJ HOSPITAL
FITCH RATINGS (THAILAND) LIMITED
FRAGRANT PROPERTY LTD.
FREEVIEW COMPANY LIMITED
GIVAUDAN GLAXOSMITHKLINE (THAILAND) LTD.
GRANT THORNTON SERVICES LIMITED
HCA HOSPITALITY CONCEPTS ASIA HQ NEW TERRITORIES, ECLIPSE HOTELS THAILAND CO. LTD
HEIDELBERG GRAPHICS (THAILAND) CO. LTD
HEIDRICK & STRUGGLES RECRUITMENT (THAILAND) CO., LTD.
HILL+KNOWLTON STRATEGIES CO., LTD.
HUMAN CAPITAL GROUP EXECUTIVE SEARCH CO.,LTD.
HUTCHINSON TECHNOLOGY OPERATIONS (THAILAND) CO., LTD.
IMMEDIATE RESOURCES LTD
IMPACT ELECTRONS SIAM CO.,LTD.
INSTITUTE OF DIRECTORS JLF ASSOCIATES LTD
JOHN W. HANCOCK & ASSOCIATES LTD.
KASET THAI INDUSTRY SUGAR CO.,LTD
KENG SENG GROUP OF COMPANY
KEPPEL THAI PROPERTIES PCL
KPMG PHOOMCHAI BUSINESS ADVISORY LTD.
L.V.TECHNOLOGY PUBLIC COMPANY LIMITED
LANNA RESOURCES PUBLIC COMPANY LIMITED.
LEO GLOBAL LOGISTICS COMPANY LIMITED
LINS ADVERTISING & MARKETING PTE LTD
LION CORPORATION (THAILAND) CO., LTD.
LOCKWOODGREENE CO., LTD.
M.C.S.STEEL PLC.
MASTER AD PUBLIC COMPANY LIMITED
MAZUMA (THAILAND) CO., LTD.
MBMG GROUP
MCOT PUBLIC COMPANY LIMITED MICHELIN SIAM CO., LTD.
MINISTRY OF FOREIGN AFFAIRS
MUANG THAI INSURANCE PUBLIC COMPANY LIMITED
NEIGHBOURING COUNTRIES ECONOMIC
DEVELOPMENT COOPERATION AGENCY (NEDA)
NEW ZEALAND THAI CHAMBER OF COMMERCE
NEXT STEP COMPANY LIMITED
NORFUND THAILAND
NRI CONSULTING & SOLUTIONS (THAILAND) CO., LTD.
NT GROUP CO.,LTD
OFFICE OF THE ATTORNEY GENERAL
OFFICE OF THE PERMANENT SECRETARY
P.R. RECRUITMENT & BUSINESS MANAGEMENT CO., LTD
PANORAMA WORLDWIDE
PHARMA INDUSTRIES
PLANNET CO.,LTD
PRAKIT HOLDINGS PLC.
PREMIER MARKETING PCL
PRODIGY PUBLIC COMPANY LIMITED
PTT ENERGY RESOURCES CO,.LTD.
PTT GLOBAL CHEMICAL PUBLIC CO.,LTD.
PTT POLYMER MARKETING COMPANY LTD
QUICK LEASING CO., LTD.
RATCHABURI ELECTRICITY GENERATING HOLDING
PUBLIC COMPANY LIMITED
S&P
S.KIJCHAI MDF CO., LTD
S.N. VISANU ALUMINIUM CO., LTD
SAPPE PUBLIC COMPANY LIMITED
SATHORN THANI MANAGEMENT SERVICE CO LTD
SB. INTERSOFT CO.,LTD.
SIAM CITY INSURANCE PUBLIC COMPANY LIMITED
SIAM RESEARCH (THAILAND) CO. LTD
SINO-THAI ENGINEERING & CONSTRUCTION PUBLIC
COMPANY LIMITED
SOFTCONTROL.NET LTD.
SPVI PUBLIC COMPANY LIMITED
STAIRWAY CONSULTING CO.,LTD.
STP & I PUBLIC COMPANY LIMITED
SUVITECH CO., LTD.
SWISS INTERNATIONAL AIRLINES
SYMPHONY COMMUNICATION PCL.
TAEL MANAGEMENT CO
THAILAND CONVENTION AND EXHIBITION BUREAU
TECHNIP ENGINEERING (THAILAND) LIMITED
THAI AGRO ENERGY PUBLIC COMPANY LIMITED
THAI AIRWAYS
THAI BEVERAGE PUBLIC COMPANY LIMITED
THAI CAPITAL CORPORATION PUBLIC COMPANY LIMITED
THAI CARBON BLACK PCL.
THAI ENTREPRENEUR PROMOTION
THAI FILM INDUSTRIES PUBLIC COMPANY LIMITED
THAI GYPSUM PRODUCTS PUBLIC CO,. LTD.
THAI INVESTORS ASSOCIATION
THAI PROSPERITY ADVISORY CO.,LTD.
THAI WATER OPERATIONS CO.,LTD.
THAILAND MANAGEMENT ASSOCIATION
THAMMASAT BUSINESS SCHOOL
THAMMASAT UNIVERSITY
THANTAWAN INDUSTRY PUBLIC COMPANY LIMITED
THE BOARD OF TRADE OF THAILAND
THE SIAM COMMERCIAL BANK PUBLIC COMPANY LIMITED
THE STOCK EXCHANGE OF THAILAND
THORESEN THAI AGENCIES PUBLIC COMPANY LIMITED
TICON LOGISTICS PARK CO., LTD.
TIPCO FOODS PUBLIC COMPANY LIMITED
TOYO MILLENNIUM CO., LTD.
TTW PUBLIC COMPANY LIMITED
TURNAROUND FOCUS CO., LTD
TV DIRECT PUBLIC COMPANY LIMITED
UAC UTILITIES CO.,LTD
UMICORE PRECIOUS METALS (THAILAND) LTD.
UNITED OVERSEAS BANK (THAI) PCL.
UNIVERSAL FOOD PUBLIC CO.,LTD
VENTURE GROUP OF COMPANIES
VINARCO INTERNATIONAL LIMITED
VRIENS & PARTNERS PTE LTD
WIREFORM A. N. (THAILAND) CO., LTD.
WONG PARTNERSHIP LLP
WORLDTIBE INTERNATIONAL CO., LTD