High-speed trains and Bangkok terminal part of plan to revive antiquated network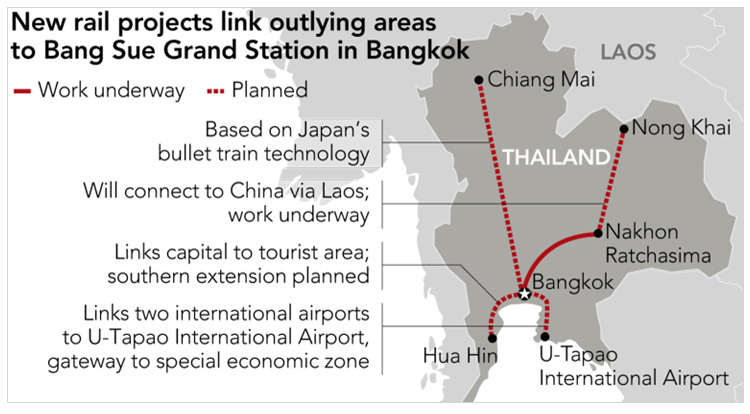 Thailand is in the midst of an ambitious railway development drive aimed at weaning the country away from autos to more eco-friendly train transportation while transforming into a regional rail hub.

The government will spend more than $25 billion to build a high-speed rail network, of which 16 billion baht ($485 million) has been earmarked for the new Bang Sue Grand Station in Bangkok.

The station is 60% complete, according to Worawut Mala, acting governor of the State Railway of Thailand. When finished in 2020, it is expected to serve about 400,000 passengers daily as the nation's main transportation hub, connecting new high-speed trains with urban lines.

The four-story building forms the centerpiece of a 3.7-sq.-km development project that will be home to high-rise offices, condominiums, retail establishments and parks. It replaces aged Hua Lamphong Station built in 1916 and will be Southeast Asia's biggest station when completed.

Thailand's vast national railway network sprawls over 4,000 kilometers. But most lines are single-track, the trains old, and operations inefficient. It takes a staggering 11 to 14 hours from Bangkok to the popular northern city of Chiang Mai via rail, for example, forcing many passengers onto faster airplanes and buses to travel the 670-km route.

A new line now under construction will cut travel time to three and a half hours. Estimated at about 420 billion baht, the line is based on technology borrowed from Japan's famed bullet trains.

Other high-speed rail projects include the 250-km Bangkok-Nakhon Ratchasima link and one connecting two international airports in Bangkok with U-Tapao International Airport in Rayong Province -- soon to be part of the country's Eastern Economic Corridor.

The Bangkok-Nakhon Ratchasima line will connect Bangkok with Laos in the northeast, which is also building its own high-speed rail under Chinese direction. Eventually, the transnational line will extend into southern China. Completion of the Bangkok-Nakhon Ratchasima leg of the route is projected for as early as 2022, according to Transport Minister Arkhom Termpittayapaisith.

For the U-Tapao project, either the Charoen Pokphand Group -- Thailand's biggest business conglomerate -- or a consortium led by rail operator BTS Group Holdings will link the three airports.

The country's heavily congested urban railways are also being upgraded and expanded. A new line running north and south through Bangkok will join an existing line to connect outlying areas of the capital to Bang Sue Grand Station.

In addition to the green aspect of the initiative, the government is hoping that better rail infrastructure will help pull the country from its middle-income trap, in which a country reaches a certain level of economic success then stalls.

In Thailand -- like many other emerging economies -- wealth is concentrated in major urban areas like Bangkok, creating a wealth gap between city dwellers and country folk. A vibrant, rail-focused transportation system will help spread the wealth by luring investment and tourism from the main cities, or so the government thinks.

The country is already the second most popular tourist destination in the world, according to the latest report from market research company Euromonitor, and the push for better rail service will help secure its position.

The biggest challenges facing the initiative are profitability and affordability. Railway operators need healthy bottom lines to keep trains running, while fares have to be low enough to keep them filled.

Budget air carriers also pose a challenge, especially when competing for cross-country passengers. One-way high-speed rail fares between Bangkok and Chiang Mai will go for just over 1,000 baht. Meanwhile, budget carriers flying the same route occasionally offer cheaper seats.

Unlike the numerous large cities that Japan's bullet trains serve, Thailand has only Bangkok, Chiang Mai and a few other moderately sized cities, limiting demand for high-speed rail.

This may have put off Japanese companies, who have yet to show much interest in operating new railways in the country. "There could be unlimited losses" were we to become involved in Thai rail projects, a Japanese company executive said.