TICA
ACTIVITIES
Malaysia & Singapore Roadshow
The Malaysia & Singapore Roadshow was held on 5 & 7 March in Kuala Lumpur and Singapore. TICA members who attended were:

A-One Bangkok Hotel,
Banyan Tree Bangkok,
Buffalo Tours,
Chiang Mai Pacific World Ltd,
Duangjitt Resort & Spa,
Holiday Inn & Suites,
GM Holidays,
Horizon Village & Resort Chiang Mai,
JW Marriott Hotel Bangkok,
Le Méridien Chiang Mai & Le MERIDIEN Phuket Beach Resort,
Laguna Phuket,
Oriental Events,
Outrigger Laguna Phuket Beach Resort,
Pheonix Event Management Company,
Ramada Plaza Bangkok Menam Riverside,
Royal Paragon Hall,
Standard Tour Thailand,
Stream Events Asia,
The Nai Harn, Phuket,
Travstore Travel Management,
Twinpalms Phuket Resort
World Travel Service Limited.

More information Click here
TICA Membership Quarterly Luncheon
The TICA Membership Quarterly Luncheon took place on 27 March at The Athénée Hotel in Bangkok. Delegates had the opportunity to share a superb meal while networking, exchanging information and listening as guest speakers shared their thoughts on the topic "Benefiting from Sustainability." As speakers follows;
Khun Arrut Navaraj, Managing Director of Sampran Riverside
Mr. Graham Harper, Regional Manager Educational Travel & Chair Responsible Travel Advisory, Buffalo Tours (Thailand) Limited
Khun Tongjai Thanachanan, Managing Director, Pracharath Rak Samakhee Social Enterprise (Thailand) Co.,Ltd
Khun Supawan Teerarat, TCEB Vice President
Moderator: Khun Prochoom Tantiprasertsuk, Vice President – Sales & Marketing Dusit International
More information Click here
TICA's Annual General Meeting (AGM) 2018
TICA's Annual General Meeting (AGM) was held at Dusit Thani, Bangkok on 3 April in accordance with the regulations of the Department of Business Development and Ministry of Commerce. There was no election this year, but we were happy to report on our activities of the past year and our MICE prospects for 2018. As usual, our TICA cameras were there - have a look at our photos!
More information Click here
TICA Destination Update
This issue, TICA's Destination Update showcases Bangkok, the City of Angels as an ideal MICE venue for incentive travel as well as business meetings. The event organised in association with TCEB, provided TICA hotel members in Bangkok's Riverside area with the opportunity to present their properties and destination to other TICA members in the DMC, PCO and EMC categories. This was aimed at informing of new updates and establishing first-hand experience to pass on to all clients. It was the perfect event for all TICA members to provide valuable feedback, help build relationships with each other as well as drive more business to the destination.
Coach the Coaches

This year, Coach the Coaches event organised by TCEB, was held in Hat Yai on 20 – 21 April at the Conference Hall of The 60th Anniversary of His Majesty the King's Accession to the Throne International Convention Center (ICC).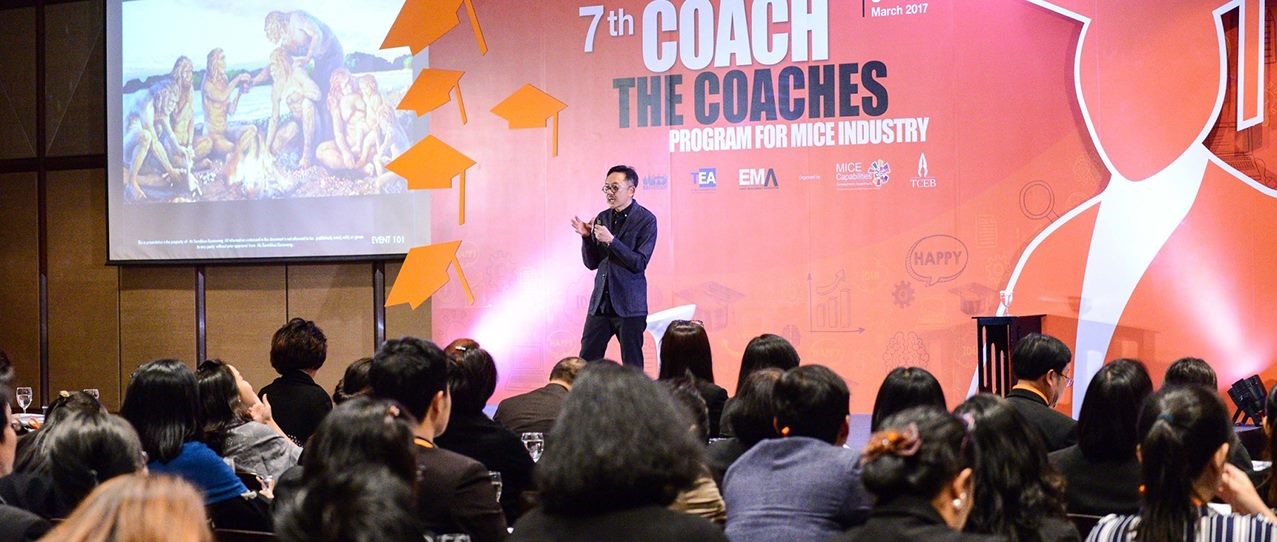 Khun Boontawee Jantasuwan, Founder of Events Travel Asia Co., Ltd. and Chairperson of the TICA Marketing Committee, efficiently moderated the entire event. The speakers at the event were various TICA representatives. Khun Viladda Vanadurongwan, Managing Director of Karaked Entertainment Co., Ltd. spoke about how to organise effective conventions. Khun Patom S'prayoon, TICA SDC Chairperson and Consultant of Renaissance Pattaya Resort & Spa, together with Khun Bert Chamrernnusit, SDC Co-Chairperson and Country Manager of Pacific World Meeting & Events (Thailand) Limited talked about how to organise effective Meetings & Incentive Travels.

The event ended on a high note with the esteemed members contributing to discussions on the topic of making a brighter future for MICE (Career Advisory).