TICA
ACTIVITIES
Asia Community Building Pledge
On 26 July 2019, TICA signed the "Asia Pacific Community Building Pledge" at SMF2019 in Singapore, with the aim to promote and strengthen the Business Events industry in this region for the mutual benefit of all communities involved. This pledge will facilitate all parties through sharing of relevant research data, and creation of jointly sponsored activities that encourage interaction between members, among other initiates.


Be Effective At Tradeshow
"Be Effective at Tradeshow" training course on 30 July 2019 saw a successful turnout and a valuable exchange of ideas. Led by guest speaker Khun Prachoom Tantiprasertsuk, who discussed effective strategies for marketing a business globally, the event was a great opportunity for attendees to network and gain critical insights in the trade show sector.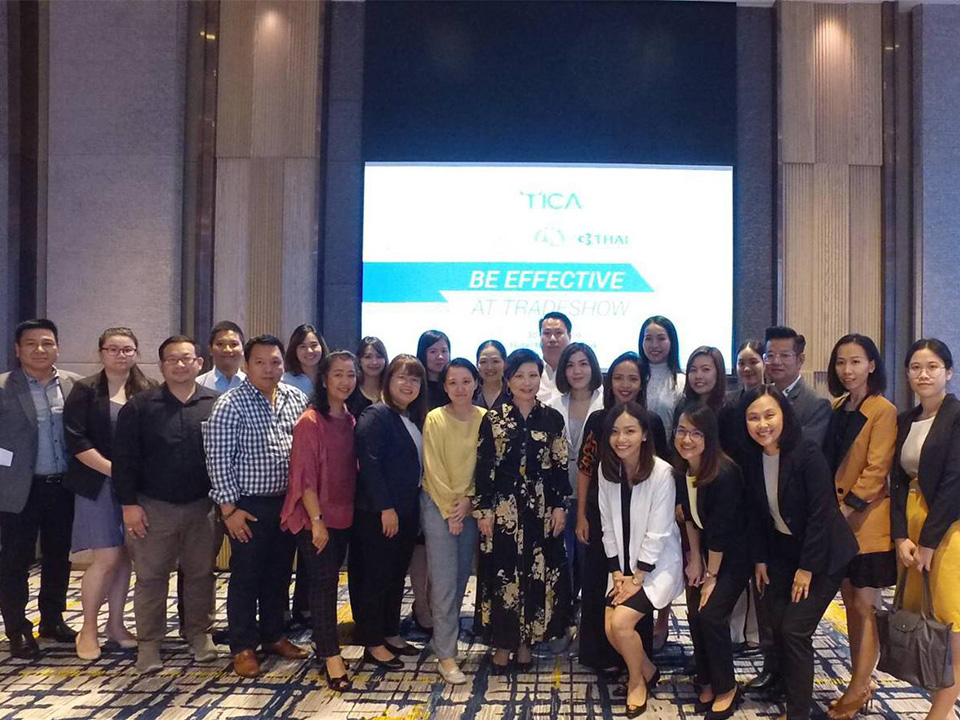 Thailand Incentive Travel Professional (TITP)
Day 1 : Day one of the Thailand Incentive Travel Professional (TITP) seminar got off to a great start this morning, with a full room of attendees eager to learn about the key factors for creating incentive programmes that resonate with company employees. TICA President Khun Sumate Sudasna kicked things off with an insightful introduction into the incentive travel industry, before the courses began for the day.

The second half of the Thailand Incentive Travel Professional seminar was very insightful. From planning to executing, our speakers gave detailed presentation on how to successfully organise a travel incentive programme to promote Thailand as a MICE destination. First, Ms. Jeannie Techasiriwan gave us advice on managing finances and budgeting for travel incentives. Then, Mr. Bert Chamrernnusit shared his advice on Incentive Travel Programme Design, as well as persuasive Sales Techniques. Towards the end, Mr. Bert shared his wisdom on professionalism and the business ethics that lead to success.
Day 2 : of the Thailand Incentive Travel Professional (TITP) seminar covered several important topics by speakers Mr. Boontawee Jantasuwan, Ms. Jeannie Techasiriwan, and Mr. Narong Auysawat for Travel Incentive Programmes which focused on the final execution. These topics include programme management, outsourcing and logistics, and the importance of technology. The second half of the seminar's focus was on the importance of sustainability and different CSR programmes, as well as dealing with risk and crisis management. The seminar concluded with a Certification Presentation. After receiving positive feedback for TITP, we plan to organise more courses and seminars like these for the benefit of all our members.
Effective Site Inspection
On 22 August 2019, TICA's Effective Site Inspection training course at Avani Sukhumvit Bangkok proved to be a productive session, filled with valuable insights. The workshop began with a presentation of standard site inspection protocol, before attendees broke off into groups to discuss and brainstorm ideas on how to host a memorable site inspection. The day ended with groups sharing their respective views, exchanging ideas and enhancing their knowledge of this critical MICE industry component.
TICA Destination Update - Rayong & Pattaya
TICA is committed to providing business as well as education opportunities for all members. Our highlight event, TICA Destination Update 2019 to Rayong & Pattaya was organised specially for members and took place from August 24th to 27th. During this inspection-packed education trip, members learned what's new in Rayong & Pattaya and why it is the perfect place to host your MICE activities.

Check out the highlights from TICA's Destination Update Rayong - Pattaya. This eventful trip included visiting Rayong Marriott Resort and Spa, Holiday Inn & Suites Rayong City Centre, Renaissance Pattaya Resort & Spa, Veranda Resort Pattaya Na Jomtien - MGallery, ANA ANAN Resort & Villas Pattaya to inspect their magnificent properties and MICE capabilities.

Delegates also visited Thai communities such as the Ban Krasae Bon, Rayong, Thailand Community and Baan Takhian Tia Community, participated in CSR activities, attended the glorious KAAN SHOW and had the opportunity to take tours of the iconic Sanctuary of Truth as well as Legend Siam, Pattaya.

Overall this was a very educational and fun-filled trip, and TICA would like to thank all the members for attending and making it so memorable.