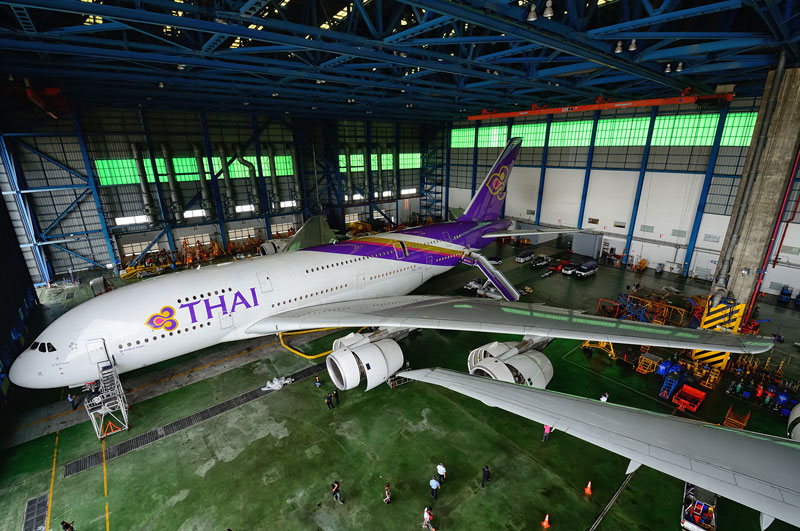 Infrastructure - Full-Service Aviation Hub and Aircraft Maintenance Industry
Thailand is poised to become a full-service aviation hub and a major player in the region's multi-billion dollar aircraft maintenance industry. With its geographic location and strong supporting industries, the potential for growth in this industry is very high. The Boeing Company forecasts a market for the Asia-Pacific region of about 8,960 new airplanes worth US$1,130 billion for the 2009 to 2028 period.

Travel volumes in the Asia-Pacific overall are large and growing rapidly, and will account for 41% of travel in 20 years, up from around 32% today. In fact, in less than 10 years, the region will easily be the largest air travel market in the world. Former IATA Director General and CEO Giovanni Bisignani has stated that the focus of this industry continues to shift to the East and that by 2014 one billion people will travel in the Asia-Pacific region. Cargo shipments in the region will account for 28% of global volumes.

MasterCard has ranked Bangkok as the top city in Asia for international visitors and 3rd in the world.

Thailand's aviation sector currently comprises air transport services, which includes passenger and cargo flights, and ground-based infrastructure, which includes all of the activities at airports. Combined, these functions currently contribute about 1.6 percent of the gross national product. In its Economic Benefits from Air Transport, Oxford Economics estimates that 393,000 jobs in Thailand are supported by the aviation industry: 79,000 directly, 185,000 through the supply chain and 130,000 from employee spending. A further 1,802,000 jobs are created through the effects of aviation on tourism. Moreover, the report shows that in the Asia-Pacific region in 2010 a total of 24 million jobs were supported by air transport.

Supply chain activities for this industry include not only aviation fuel, catering and repair and maintenance, but also tickets, freight forwarding, financing and related business functions. One should not overlook the many companies in Thailand that are manufacturing aircraft parts and components.

Bangkok has recently become 15th in the global rankings that measure airports in passenger throughput. This is significant growth from the previous rank of 26th. As cargo and passenger volumes continue to accelerate, investment opportunities in aircraft maintenance likewise increase.

According to the IATA, Thailand's registered airlines already carry 24 million passengers each year and 638 thousand tonnes of freight. The three largest airports in the country, Suvarnabumi, Chiang Mai and Phuket can handle nearly 50 million passengers combined. Chiang Mai International Airport has completed a 2 billion baht expansion, and now has an infrastructure that can support its aspiration to become a truly regional aviation hub. The airport can now handle 8 million passengers a year.

Phuket International Airport: In December 2009, the government approved a 5.8 billion baht plan to increase the airport's capacity to 12.5 million passengers by 2018. This is on top of the recently completed second terminal.

And with Don Mueang airport's reopening for arrivals and departures of domestic flights, it only increases investment opportunities. According to the Airport Organisation of Thailand (AOT) DMK can serve 60 flights per hour, 11.5 million domestic passengers a year, and 12,490 tons of domestic cargo per year.

Added to the strong infrastructure in place for this industry is Thailand's U-Tapao airport, 125 kilometers southeast of Bangkok.

In terms of training, Thailand's Civil Aviation Training Center (CATC) cooperates with international airlines as a human resources coordinator in supplying students (Certification of Commercial Pilot License) to the airlines and has also launched a Multi-Crew Pilot License (MPL): a course that will take a shorter time in responding to the higher demand for pilots. This course is included in the ABAC aircraft program.

CATC also offers wide range of aerospace training programs, including commercial and private pilot licenses, for both airplanes and helicopters and Thai Airways International operates the Thai Flight Training Academy (TFTA).

"We chose Thailand for our first production facility outside the U.S. because of the quality of its workforce, favorable laws and central location in Southeast Asia." - Joseph C. Berenato Chairman and Chief Executive Officer, Ducommun Incorporated

In less than three years, the ASEAN Economic Community will create a single market and production base with the free flow of goods, services, investment and capital, and skilled labor. This too can only lead to an increase of passenger and cargo movement through Thailand's several airports. In 2010, intra-ASEAN trade was valued at US$519.8 billion and its global trade at US$1.69 trillion.

Thailand already has the infrastructure in place for repair services, including overhaul of aircraft engines, and is already a major hub for the electronics and electrical appliance industry, which opens opportunities for cluster development of avionics and communications equipment.

Included among the many investors in Thailand's aircraft parts industry are Ducommun Incorporated, which produces high-performance and high- reliability commercial microwave switches; Weston SEA Limited, a manufacturer of complex precision components and sub-assemblies, predominantly for the aerospace market, and Primus International Bangkok Co., Ltd, a Tier II integrator of composites, metallic parts, and assemblies for the commercial, regional, and business aircraft industries; and Driessen Aircraft Interior Systems (Thailand) Ltd, a world leader in galley and air cargo equipment for the commercial aviation industry; MRAS Asia, manufacturing aircraft engine parts; and Leistriz (Thailand) Ltd, manufacturing blades for aircraft.

In addition, there are almost a dozen BOI-promoted companies engaged in aircraft maintenance and repair, including Triumph Aviation Services Asia, Scandinavian Aircraft Maintenance, and Chromalloy, as well as local companies, such as Bangkok Airways and Thai Aviation Industries.

The BOI promotes the manufacture, repair or conversion of aircraft, including aircraft parts and equipment or onboard equipment. These activities are classified as a priority activity of special importance and benefit to the country, which means that projects in the aircraft maintenance industry are eligible for exemption of import duties on machinery, regardless of zone, and an eight-year corporate income tax exemption, regardless of zone, and not subject to the corporate income tax exemption cap.