For many vacationers in Thailand, the island of Phuket, with its massive resort towns, is a bit too overcrowded and busy. As a result, neighbouring Khao Lak, with its long stretches of white sand backed by forested hills, is a welcome alternative. Here the warm waves make for a great day at the beach, and speedboat trips to the Similan and Surin Islands, as well as Khao Sok and Khao Lak/Lam Ru National Parks, are easily undertaken. In addition, five star accommodations are available all along these stunning beachfronts.
ABOUT Khao Lak
Khao Lak is a 20 km long strip of coastal resorts in Phang Nga Province on the Andaman Sea, located about 100 km north of Phuket Town. It is made up of a series of villages, located mainly in the Takua Pa District and partly in the Thai Mueang District of Thailand's Phang Nga Province. The name "Khao Lak" literally means "Lak mountain", and refers to the main 1,050m peak in this hilly region within Khao Lak-Lam Ru National Park. The tiny village of Ban Khao Lak (the original beach), Hat Khao Lak, the bay of Khao Lak, and sometimes even the northern town of Takua Pa, make up the area generally referred to in travel literature as greater Khao Lak. About 2.5km north of Hat Khao Lak you'll find Hat Bang Niang, an even quieter version of sandy bliss with skinnier beaches and fewer people. Meanwhile Khao Lak proper - also called Khao Lak Town by locals - is a hodgepodge of local restaurants and interesting, lively tourist markets. Daytime outdoor activities include hiking, elephant trekking, bamboo rafting, and a visit to either the Kapong or Ban Bo Dan hot springs. Travellers can also spend a somber moment visiting the International Tsunami Museum, which commemorates the 2004 tsunami disaster.
GETTING THERE
Khao Lak is approximately 60km north of the island of Phuket, accessible via Phetkasem Road, (Thai Route 4), one of four major highways in Thailand. Arriving via the Phuket International Airport (HKT) is the most common mode of access for travellers from Bangkok. Alternatively one can drive directly from Bangkok, and the 750km trip along Highway 4 takes approximately 11 to 12 hours.
MICE HOTELS
Pullman Khao Lak Katiliya Resort & Spa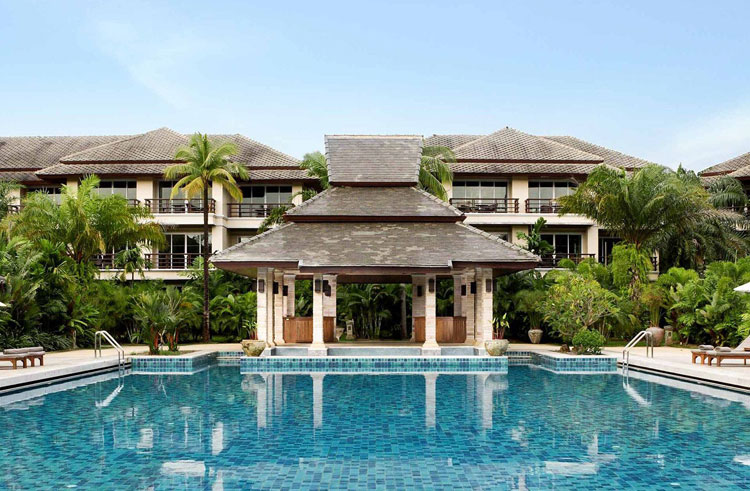 The Pullman Khao Lak Katiliya Resort & Spa (formerly the Le Meridien Khao Lak Beach & Spa Resort), offers a total of 229 rooms, as well as a beautiful outdoor swimming pool, sauna and massage facilities, water sports, tennis, and 6 different restaurants and bars to choose from. Meanwhile, the resort's 4 meeting rooms provide business professionals and event planners with ultra-modern equipment as well as flawless service. The largest of the resort's meeting rooms measures 400 sq.m, with a capacity for 720 people. Pullman's fresh approach to the planning of upscale meetings, conventions, seminars, and incentive events also includes innovative break activities, and the support and coaching of in-house event managers and coaches.
JW Marriott Khao Lak Resort & Spa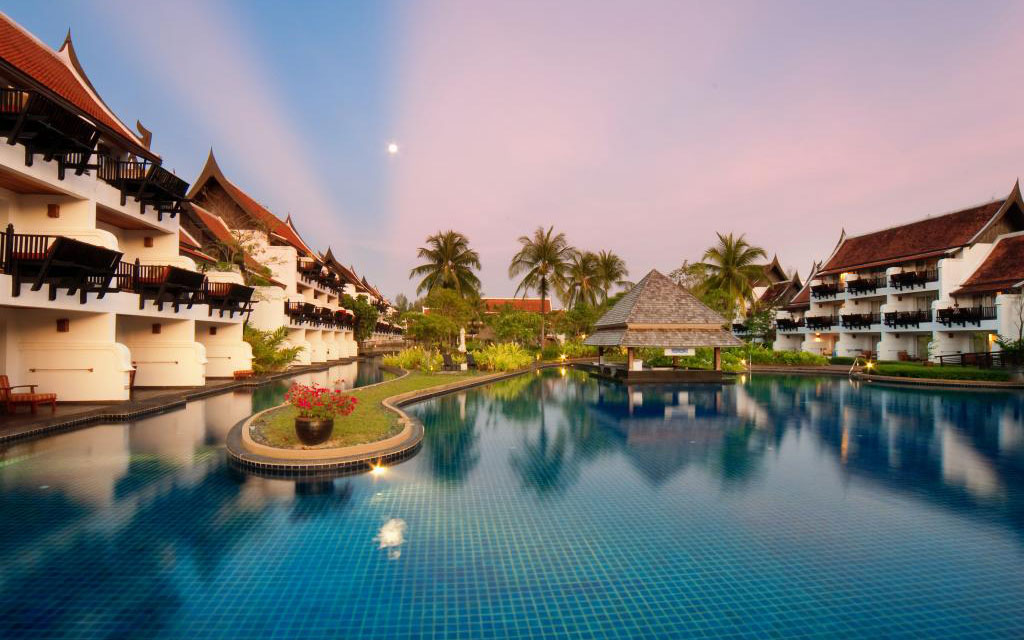 Discover the treasures of the Andaman Sea at the JW Marriott Khao Lak Resort & Spa - recipient of the 2010 Conde Nast World's Top New Hotels award. The vast landscaped grounds within the resort's beachfront area boasts Southeast Asia's longest swimming pool, while other amenities include 250 guest rooms, 43 suites, a fitness gym, whirlpool, spa, and 7 restaurants and bars to choose from. Event facilities include 15 meeting rooms, offering 3,000 sq.m of total meeting space, and the largest of these spaces has the capacity to accommodate up to 500 people. These comprehensive meeting facilities are complemented by expert catering staff and state-of-the-art audiovisual resources, and MICE organisers can choose from a selection of indoor and outdoor beachfront meeting facilities.
Ramada Khao Lak Resort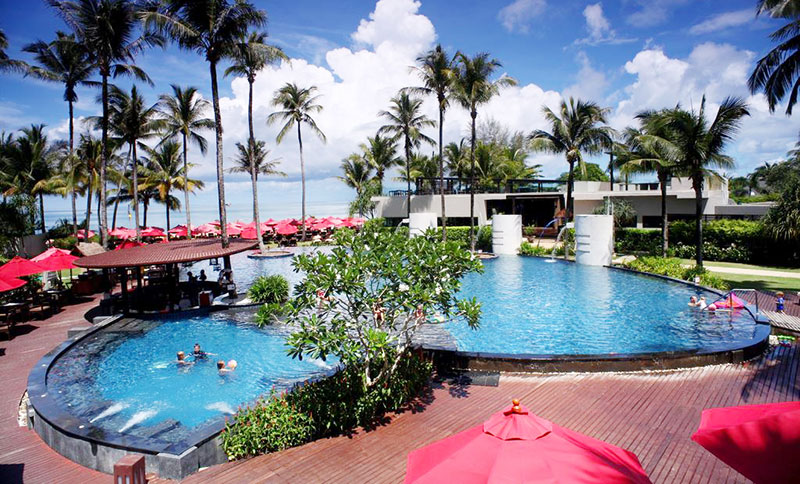 Situated on the idyllic shores of Khao Lak in Phang-Nga, Thailand, the Ramada Resort features a stylish collection of spacious rooms as well as stunning beachfront and private pool villas. The resort also features 2 restaurants serving cuisine from around the world, a spa and an exciting array of leisure and recreational facilities.
Only an hour away by car from Phuket International Airport, Khao Lak is renowned for its tranquil surroundings and unspoilt tropical beaches — the perfect ingredients for a holiday in paradise!
For small to medium sized meetings in Khao Lak, there's no better place than the Ramada Khao Lak Resort. Here you'll experience truly peaceful and idyllic surroundings, the ideal ingredients for fruitful and successful meetings and events.
The resort boasts a range of facilities for meetings including a ballroom capable of catering to 300 persons in theatre-style seating as well as smaller breakout rooms and pre-function areas.
Ramada Khao Lak Resorts and Spa is making its foray into the meetings sector by announcing a new package aimed at driving demand during low season and promoting the destination as an alternative to an increasingly overcrowded Phuket.
Hotspring Beach Resort & Spa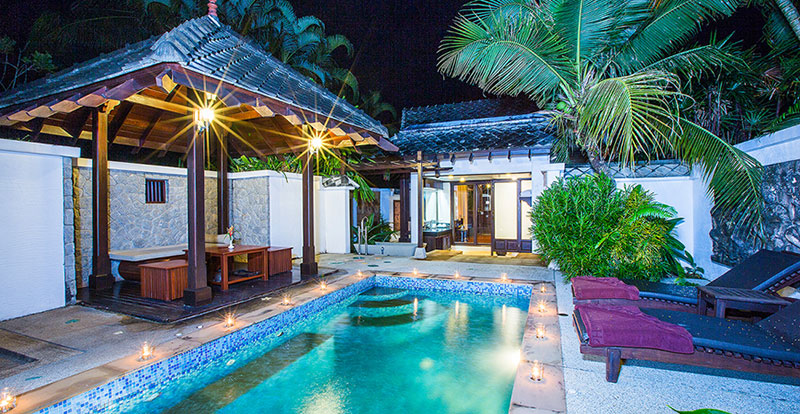 This resort boasts 75 guestrooms decorated with traditional Thai silk and furnishings and is surrounded by landscaped gardens and hot spring pools. The Hotspring Beach Resort & Spa is only a 25-minute drive from the Phuket International airport. The 4-star resort is also north of the Sarasin Bridge and near the small village of Kok Kloy and Bodarn Beach. Guests can pamper themselves at one of the four spa pavilions, which are surrounded by beautiful gardens and lotus ponds and have hot spring pools to revitalize the skin. The on-site restaurant serves a delicious variety of both traditional Thai and Western cuisine.
For guests wishing to mix business with leisure-time, the resort has special conference rooms for holding seminar and incentive programs. Their small to medium-size function rooms are perfect for meetings and private functions, fully equipped with modern audio-visual equipment.
Palm Galleria Resort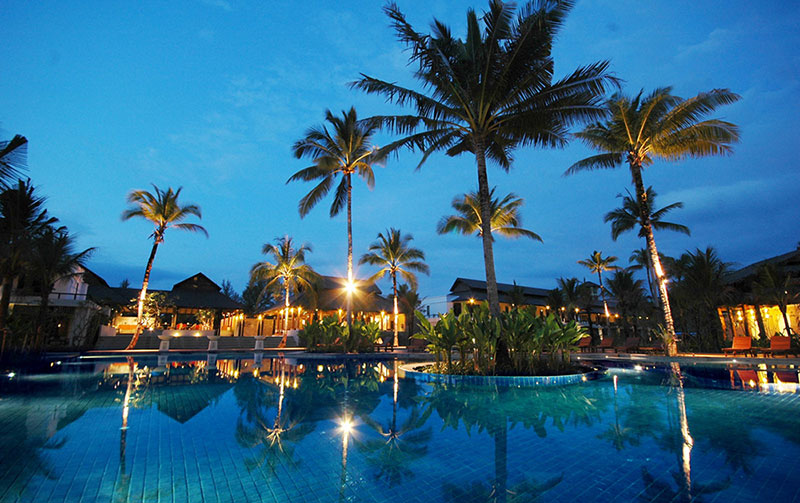 Located on Pakarang beach - one of the most beautiful in the Khao Lak area - the Palm Galleria Resort offers guests both the white sand and the clear waters of Thailand's Andaman Sea coastline. The resort boasts spectacularly landscaped, verdant tropical gardens, as well as a large swimming pool. Each of the 98 guest rooms and suites is decorated in contemporary Thai style and overlooks either the ocean, lagoons, or gardens. For diners there's an open-air restaurant, as well as swimming pool bar, and spa facilities for those needing to unwind. Finally, for meetings and MICE events, the 344 sq.m banquet & conference room can hold 300 persons theatre style.
La Flora Resort & Spa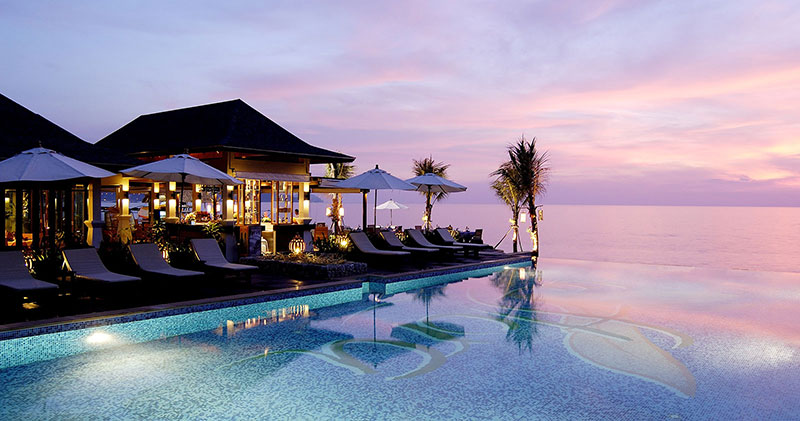 The elegant and boutique La Flora Resort & Spa is located right at the beautiful golden sandy beach of Bang Niang. Only an hour ride from Phuket International Airport, they offer a choice of thirteen exclusive and fascinating villas, as well as various types of deluxe rooms, all designed in finest contemporary Asian style. They are proud of their well-known friendliness and amiable service, which they cultivate according to Thai tradition, all serving to turn your stay into a truly special and memorable experience. Whether you choose to enjoy a relaxing treatment at our luxury spa, or a sunset cocktail at the pool bar; the captivating views of the crystal clear Andaman Sea will prove a lasting companion.
The spacious Regina Ballroom offers 336 square meters of meeting space and can be separated to three medium-size meeting rooms, which the flexibility of the design enables the hotel to cater for groups up to 400 guests. The exclusive decor, reasonable integration of technology, and our great service will guarantee for a swiftly planned and safely held event that will leave a lasting impression on all guests.