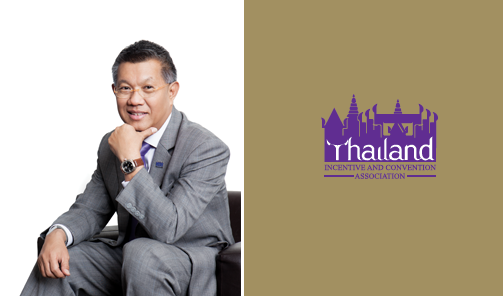 A Message from Sumate Sudasna, President of TICA
Welcome to the third edition of the TICA newsletter for 2016. As we approach the halfway mark of the year, I am very happy to report that we have, for many reasons, taken a positive turn from last year.

Starting with arrivals into Thailand; where the tourism industry has picked up substantially on 2015 and we are expecting to receive a record number of visitors by the end of the year. Especially from China where the number of travellers looks set to exceed 10 million by the end of the 2016.

In the meantime, Thailand has been taking extra measures to promote its MICE industry all over ASEAN – with a keen eye on China, our number one market.

TCEB made a recent visit to Beijing and signed a MOU to further strengthen Thailand's position as a premier destination within the fast growing ASEAN region for Chinese MICE travellers. We estimate that for the 2015 fiscal year (1 October 2014 to 30 September 2015) Thailand generated 2.5 billion US dollars in revenue from Chinese MICE travellers.

TCEB's efforts have not slowed down on any front and during May there was also a visit to Jakarta. Where the two largest representatives of the south East Asian economy joined hands in an effort to develop global trade shows and collaborations, which will definitely help shore-up the MICE industry for the future.

As we all know Thailand is the gateway to all ASEAN cities. As part of the drive to make sure each and every airport is able to sustain levels of tourism, Phuket International Airport has received major investment and significant expansion over the last couple of years. The airport will have its first test run this September and we are confident the gateway to the southern area of Thailand will re open and bring this paradise destination to the rest of the world.

In this issue of TICA MICE update we are also showcasing Koh Samui. Decades of tourism experience means it is well-versed in the needs of international MICE travellers and it's convenient location to other islands make it an ideal base for island hopping. Take a look at its many HOTELS, sandy beaches and trademark coconut trees and discover the beauty of Thailand's third largest island.

Another positive note is the boost in the Thai MICE domestic market. TCEB and the Thai Government have been pushing policies to revitalise the country's economic growth and we have been informed that 21 public and private organisations have been encouraged to host at least one meeting, seminar, or incentive travel in other provinces this year.

To sum up we have shown very healthy growth in the first half of this year and TICA looks forward to a further 6 months of sustained growth which can only be fuelled by all our work and the promotions from the government sector, we envision a positive outlook for the second half of 2016.