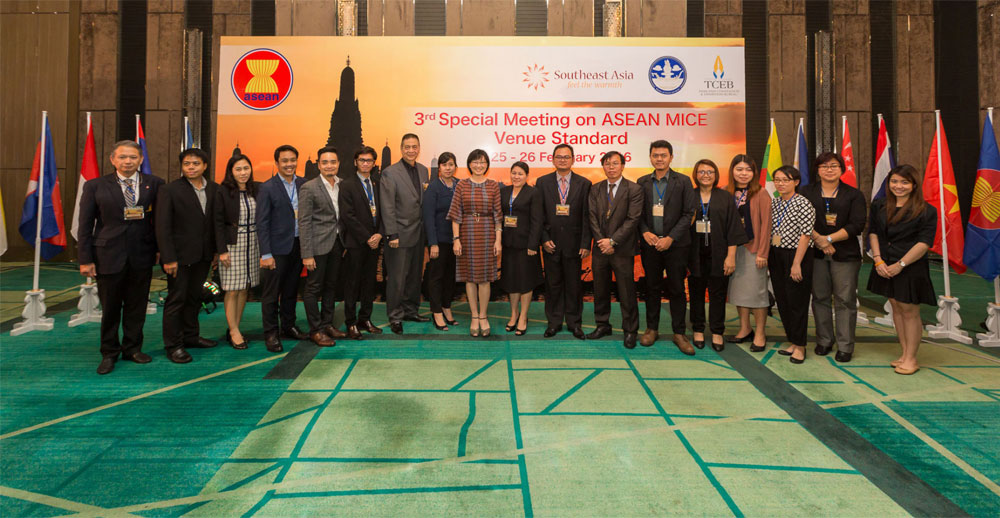 ASEAN : ASEAN Adopts Thai Standards
Thailand Convention and Exhibition Bureau (TCEB) is leading the venue quality excellence field among the other nine ASEAN countries and improving the standard of the region's venues for meetings, incentives, conferences and exhibitions after exceptional success in hosting meetings.

The 43rd ASEAN Senior Officials Meeting on tourism agreed to include the MICE venue standard designed by Thailand in the ASEAN Tourism Strategic Plan for the period 2016-2025. Thailand was appointed the host committee of the subcommittee for the development of MICE standards. The ASEAN MICE venue standard is expected to be operational from 2017.

TCEB has produced the Thai MICE Venue Standard (TMVS) for 2015-2019 comprising six key strategies covering six levels of development such as venue, personnel, information technology, public relations and marketing promotion. TCEB also plans to develop an exhibition venue standard, having been recognised by the Global Association of Exhibition Industry as the region's top exhibition-hosting country. The planned improvement of MICE capabilities in 2016 covers four components – trade education, a MICE academy, meeting international standards and sustainable conservation. The TMVS is the official model for the development of the ASEAN MICE venue standard.

Nopparat Maythaveekulchai, president of TCEB, said: "One hundred Thai venues were guaranteed with the Thailand Meeting Venue Standard (TMVS) in the 2016 fiscal year." In 2015, only 42 venues were approved.

Thailand's MICE revenue is expected to increase by five per cent in 2016, numbering about one million travellers and the revenue from MICE is projected to reach Thai Baht 92 billion.